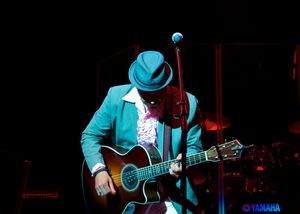 Elsten Torres - A History
Being an original has never been a problem for the Cuban born, NYC raised singer-songwriter Elsten Torres. "Be yourself everyone else is already taken" is not only his favorite quote from Oscar Wilde, but also his personal motto.
A musical pioneer, having been credited as one of the prominent creators of the Latin Alternative Rock sound of the late 90's in the USA, this eclectic and unconventional musician has cemented his artistic fingerprints in the music industry for over 3 decades now. Elsten is a multicultural bilingual artist who has performed on stages all over the world as well as an award winning songwriter with major international hits. He has earned two GRAMMY nominations, two BMI songwriting awards, and six Billboard top ten hits throughout his career. Starting in 1994, with the Afro Cuban/Rock influenced hit, "Revolucion" (Revolution) under the moniker "Fulano De Tal", Elsten began his recording trajectory with flying colors. Subsequently, he forms the band, "Fulano" and is signed to BMG/SONY Records and Warner Music Publishing, where his career takes off at an unstoppable velocity. He is often regarded as one of the true songsmiths of his generation for his uncanny ability to write songs that become instant classics in both Spanish and English and that appeal to a vast worldwide audience.  In 2016, Elsten released his greatest hits album, "Exitos Acusticos" (Acoustic Hits) and in 2020 he released his 11th album "At the end of love". In 2022 Elsten released his 12th album the critically acclaimed "Nocturno". Now in 2023, His first single of the year "Bendita Cuba" is an homage to his homeland of Cuba as well as a tribute to his recently departed beloved mother. He continues to move forward in his musical journey as the always-creative chameleon forging ahead to new musical landscapes. 
RECENT HIGHLIGHTS
Commissioned to translate several of legendary rock artist Elvis Costello's classic hits into Spanish for an upcoming tribute album.

Commissioned by "DREAMWORKS/UNIVERSAL PICTURES to adapt and write the theme song "Fearless" (Valiente) in Spanish for the animated children's film, "Spirit – Untamed".

Invited as a featured performer at the 30th edition of the Folk Alliance International Conference in Kansas City, MO (2018).

The National Geographic channel features Elsten Torres and his music on the original documentary, "La Cuba De Hoy" (2016).

International Latin superstar, David Bisbal, records the song, "Closer Tonight" in both English & Spanish. The song is chosen for the "100th anniversary of

Freixenet champagne TV commercial in Europe (2014).

Featured artist on the USA tour of classic artists, "The Family Stone" & "The Spinners" in (2013).

Grammy Award Nominee for "Best Latin Pop Album" for his record "Individual" (2007).

Latin Grammy Award nominee for "Best Song Of The Year" for "Todo El Año" (2005).

"Todo El Año" reaches # 1 on Billboard Latin Charts for 5 consecutive weeks (2005)

BMI Award Recipient for "Todo El Año" & "Los Demas" in the category of "One of the 50 Most Performed Songs on Latin Radio" (2005 & 2004)

Has written songs and worked in musical projects for Ricky Martin, Luis Fonsi, Alejandra Guzman, Elvis Costello, David Bisbal, Julio Iglesias Jr., and many other international artists.
Discography
"Ataque"

(Rebelde Sin Causa) – Discos Gas/Mexico - 1990

"Revolucion"

(Fulano De Tal) – Radio Vox Records -1995

"Normal"

– (Fulano De Tal) – BMG/RCA - 1997

"Etc."

– (Fulano) – Radio Vox/DLN - 2000

"Individual"

– (Fulano/Elsten Torres) – FM Records -2006

* GRAMMY

Ó

Nominated "Best Latin Pop Album"

"If You Say So"

– (Elsten Torres) – Uno Entertainment – 2008

"Waiting for Clouds"

- (Elsten Torres)- Real Artificial Music-2013

"Exitos Acusticos"

– (Fulano De Tal/Elsten Torres) – CMP 2016

*Greatest Hits album

"Vamonos, Vamonos"

(Elsten y Los Damn Ramblers) – 2017

"At the end of love"

(Elsten Torres) Warner/Chappell Music - 2020

"Nocturno" - (Elsten Torres) - 2022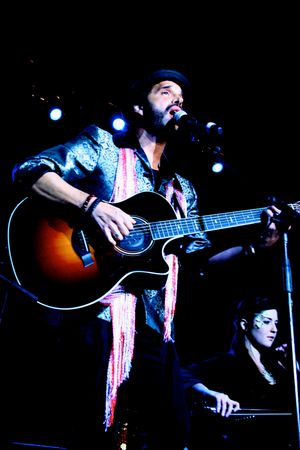 Elsten Torres - Su Historia
Originalidad jamás ha sido un problema para el cantautor Cubano-Neoyorquino Elsten Torres. "Sé tú mismo, todos los demás ya están tomados" es su frase favorita de Oscar Wilde y su consigna personal.
Un pionero musical reconocido como uno de los creadores del sonido y movimiento rock latino alternativo de los 90's en los Estados Unidos, este músico ecléctico poco convencional ha dejado firmemente sus huellas artística en la industria de la música por mas de 3 décadas. Elsten, es un artista multicultural bilingüe que ha realizado presentaciones en vivo en enseñarlos mundialmente además que un compositor otorgado por sus éxitos internacionales. Con dos nominaciones al GRAMMY, dos premios BMI y seis canciones en las diez mejores posiciones de Billboard incluyendo un #1 por 5 semanas, Elsten se ha ganado el respeto merecido de todo el mundo en el negocio de la música. Empezando en el 1994, con su primer éxito "Revolución" estilo Afrocubano/rock bajo el apodo, "Fulano De Tal", Elsten comienza su trayectoria como artista de manera espectacular. Con posterioridad, el crea la agrupación, "Fulano" y es firmado por BMG/Sony discos y la editorial internacional Warner Chappell donde su carera salta a una velocidad imparable. Frecuentemente es considerado como uno de los pocos compositores genuinos de su época por su habilitad especial de componer canciones que se convierten en clásicos instantáneos en Español al igual que en Ingles. En el 2020 lanzo el décimo disco de su carera titulado, "At the end of love" todo en ingles. En el 2022 sale el album "Nocturno". Disco que marca una nueva etapa en su carrera a nivel sonido y producción. Actualmente en el 2023, estrena el sencillo "Bendita Cuba" canción que es homenaje a su tierra natal y a su querida madre. Aun con estos logros, el continua buscando, creando y cosechando nueva música y nuevos proyectos.
Momentos Especiales
Encargado de traducir en español los éxitos mas grande del artista legendario de rock Elvis Costello para un disco tributo honorado su carera.

Invitado como "artista especial" para el festival "Folk Alliance Internacional" edición-30th en Kansas City, MO (2018)

El canal National Geographic presenta a Elsten y su música en exclusiva para el documental "La Cuba De Hoy" (2016)

El cantante internacional David Bisbal graba el tema, "Closer Tonight" en Ingles y Español,  la versión en ingles es elegida para el comercial del 100 aniversario de la champagne - Freixenet en Europa.

Artista invitado para formar parte de la gira USA con las agrupaciones leyendarias, "The Family Stone" y "The Spinners"

Nominación al Premio Grammy por el disco; "Individual", en la categoría "Mejor Disco Pop Latino del Año" (2007)

Nominación al Premio Grammy Latino por la canción; "Todo El Año" en la categoría "Mejor Canción del Año" (2005)

"Todo El Año" llega a #1 y se mantiene por cinco semanas consecutivas entre las listas Billboard nacionales e' internacionales (2005)

BMI otorga premio a Elsten en la categoría; "Una de las 50 Canciones Mas Populares en la Radio Hispana", por las canciones, "Todo El Año" y "Los Demás" (2005 y 2004)

Compositor de grandes éxitos para estrellas como: David Bisbal, Ricky Martin, Elvis Costello, Aleks Syntek, Alejandra Guzmán, Obie Bermudez, Luís Fonsi, Ednita Nazario, Julio Igliesas Jr., y Oscar De Leon.